Welcome to the 22nd issue of Place! Our lives are made up of well-trod routes: a commute to work, the walk to a friend's flat, the left turn to get to a beloved local cafe. Sometimes tedious and sometimes tinged with excitement, these grooves make up the geography of our lives. Our contributor this week, Julia Rignot, returns to a sidewalk between her mom and papa's house in Southern California - a path she walked many times while growing up - which lies below an arch of Bottlebrush flowers. She revisits the concept of transience and whether change can be a root within itself.
At Place, we believe that the experiences, sensations and conversations we have as we move about the world stay with us, stacking up as the years go by, forming who we are and the way we view the world. Do you have a letter to share? Send it to us at placeletter@protonmail.com. If you are interested in writing for Place you can find our inaugural pitch guide here. If you're the social type, follow us on Twitter (@place_letter) where you can share your favourite pieces and Instagram (@placenewsletter) for a visual feast. Yours, The Place editorial team.
---
Finding roots
I grew up in a green house on a corner. It sat at the bottom of our sloped cul-de-sac on Zoe Anne Way, at the top of the neighborhood in the Crescenta Highlands of Southern California. It was a six-minute walk from the other house I grew up in, the one with the bright blue painted garage on Los Amigos Street.
My parents divorced when I was three, and so ensued the titles of "Mom's house" and "Papa's house." Names for theplaces my brother Kevin and I called home for a week until switching to the other; a ritual we shared for nearly 13 years. For the first few years following their split, my dad moved between houses in abutting cities, but until he found one a few blocks away from Mom's in the foothills of La Crescenta, I never gave much thought to the space between my two homes.
Papa found the house on Los Amigos Street when I turned six. It was a dozen yards away from my first grade class's bungalow at Dunsmore Elementary, perched on the same street as the Szabados family, and four blocks from Mom's. I knew I was lucky to have divorced parents living in such close and amicable proximity to one another (partly because that's what all adults echoed around me) but still thought of the changeovers as a chore. On Sundays, Kevin and I would pack up a few things and trek up or down the hill to the other place, the other home, and our other parent (sometimes step-parent) who came with different comforts, rules, responsibilities, and beds.
At the end of the street running perpendicular to Zoe Anne Way, catty-corner from my Mom's house, the sidewalk curves down the slope and meets an overhang of overgrown bushes and plants that bend into an arch just above my head. The underpass is only a few paces in length and doubles as a canopy that shades you from the unforgivable California sun; its cement floor is smudged pink after a few days of wind whipping through its limbs. It's the most direct route between my parents' houses. A path I've walked my entire childhood but never took notice of until I found myself at its entrance on a rare trip home from where I had been living in Denmark.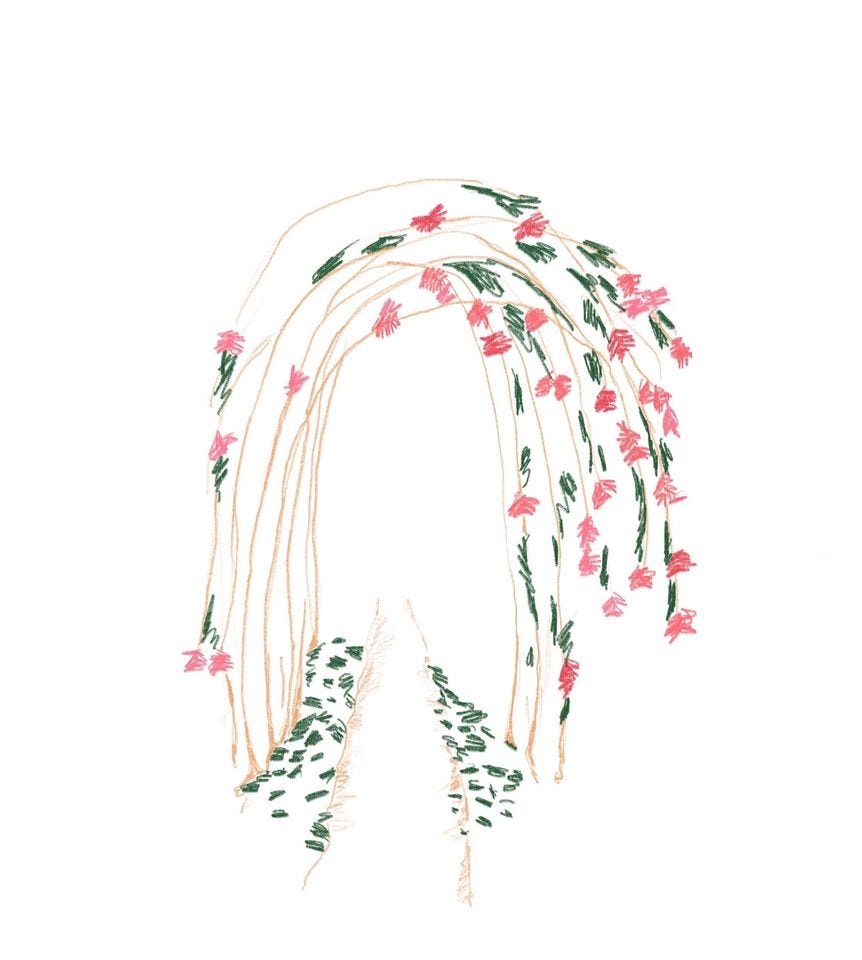 The mouth of the tunnel is made up of tall bushes of bottlebrush flowers: Strange, bright red, fuzzy-looking florets resembling the rounded hairbrush in my mom's bathroom. They stretch up and across the sidewalk bordered with browned leaves and pine needles to the edge of Boston Avenue.
I know these flowers. They also grew along my Nana's driveway in Redondo Beach, and followed me to my mustard-colored duplex in San Francisco where I lived throughout my college years. The cylindrical scarlet flora, Callistemon citrinus, can be seen all over Southern California, adorning sidewalks like mine, or the edge of bridal paths, or in the company of Yucca shoots and Mexican fan-palms in bursts of purple, yellow, and pink. On my route, they sway in flushes of red.
Come spring, the tiny, crimson-colored filaments dusted with pollen bloom in their distinctive brush shape at the end of each green stem. The floret produces small woody-looking fruits, all clustered together, holding hundreds of seeds and clinging to the plant for years at a time until finally releasing them to make way for new green leaves -- for change. Though they're endemic to desert-like climates and not the rainy, dreary likes of where I had been living, bottlebrushes tend to grow wherever they are rooted and are notoriously tolerant.
They're far from home too, I learned. Bottlebrushes are a native Australian bush flower. To the Bundjalung people, it's known as 'mahram', a flower that celebrates birth; all that is new and sustaining. It is said to have healing powers for those who are nostalgic and pining for the past; its oil essence can be used to aid in transitions in life, big and small, granting the ability to let go, move through life and open up space for what's to come.
How appropriate, I thought, that these flowers are rooted here, in a spot that felt like a record of all walks of my life. It was at times a sacred escape route; the trail I'd walk up to take solace from the other parent, be it fleeing chaos at my dad's or responsibility at my mom's. It was my and Anna's secret footpath to the soundproof spot where we could slip into a car and jet off to our mischief. It's the shortcut to Christel's house on Parasio Way, and the long way around the three-block radius where I took our dogs for walks. It's the passage my friends and I would scamper through, down to my dad's often vacant house with a second-hand shisha pipe and stolen alcohol in tow. And it's where I threw a massive tantrum because my mom made me and my back-talk get out of the car and trudge up the hill to our house. The path is a stage of all of the mere comings and goings in my little world, with a backdrop of the beautiful, dry Southern California chaparral. Nothing out of the ordinary ever happened on that pavement, but somehow it holds something greater than what happened at either end of it.
I was 23 years old the last time I visited my homes in La Crescenta. It was in May of 2018, when Mom was preparing to leave our green house on the corner for Colorado and my dad had long since moved south to Orange County. Kevin was now raising his own kids in our dad's old house on Los Amigos Street, where I wandered down to one afternoon. Like muscle memory, I found myself at the entrance of this arch, like I was seeing it for the first time.
I was struck by its beauty and by bitterness of never feeling tethered to this place, or to any place for that matter. Maybe it was my own doing. I had been living across the world for four years by this point in time and darting back and forth, calling more addresses 'home' than I had fingers on my hands. It was sometimes out of necessity, and sometimes choice. At the tender age of three, I had no choice but to accept that my life would center around transit between my two houses. And despite the unadmitted comfort I now had in habitual movement, I realized had been carrying great disdain for it, too.
Navigating a split family was painful, it still is, and living in halves was at times exhausting. Studying the bottlebrush flowers as I descended Boston Avenue towards Kevin's house, I thought about how deracinating that transience felt and my aversion to it still. But of the many habits divorce ingrains in us kids, I think finding your roots in change is a powerful one, one I couldn't deny I had developed. Like this path, it's a constant I could count on. Running my fingers through its feeble limbs as I neared the outlet of the passage, I thought, my roots are right here after all.
-Julia is a French-American documentary filmmaker and aspiring adult from La Crescenta, California living in East London.
-Illustrations by Kylee Pedersen
---
Place Recommends:
Should tourism change forever?
An Airbnb gold rush in upstate New York,
A choose-your-own-pint adventure.
---
Join us next week for another journey.