The Forgotten Corners
Does the richness of a place lie in its neglected spaces?
Hello and welcome to the fifth issue of Place. Is everything about a place meant to be objectively beautiful? How do we reckon with the spaces that may not, in the traditional sense, be aesthetically pleasing? What fullness of perception do these forgotten places lend? As movement outside of our immediate neighbourhoods continues to be restricted, many of us are looking at our surroundings in a different way. Maybe, we are starting to see new things along the pathways we've always walked. For photographer Ashley Lauren Rang, quarantine in Southern California has been a time of reflection in a place she's only recently come to know. In turning away from the shiny veneer of tourist hotspots and the unbridled pursuit of perfection, her photographs capture some place in between the known and the unknown - small corners of shadow and light giving us glimpses of beauty in otherwise unremarkable vignettes. 
But before we get to Ashley's story we wanted to follow up with our piece and pledge from last week. The Place editorial team has been having a lot of conversations about what our role is as a fledgling platform, exploring our own power as editors and considering our uniquely global audience. As we've made clear from the beginning, we want Place to be somewhere people can go for respite and reflection, but not so escapist that we're out of touch with the reality of many peoples' lived experience. We also don't want to be reactionary - we are in this for the long term. With limited financial resources for the time being, we're re-thinking our editorial process and how we can interrogate some of the privileges of travel in how we edit pieces especially from White/Western voices as well as thinking of how our team can contribute to the conversation, without asking others to do work without compensation. That said, we have commissioned a paid piece of writing that will be coming out in future weeks and have connected with some very talented writers, photographers and creators that understand our vision, which gives us great hope for the voices we can support once we have the resources. More on that soon! If you are interested in supporting this effort financially, please get in touch.
At Place, we believe that the experiences, sensations and conversations we have as we move about the world stay with us, stacking up as the years go by, forming who we are and the way we view the world. Do you have a letter to share? Send it to us at placeletter@protonmail.com. If you are interested in writing for Place you can find our inaugural pitch guide here. And be sure to follow us on Instagram @placenewsletter for a daily visual feast. Yours, The Place editorial team.
---
Echo of a Place
Southern California is marketed as a dreamland where the sun doesn't stop shining. And yet, behind this veneer, normal, everyday life flickers in a way that is impossible to ignore - you just need to let yourself see the places you might usually overlook. It's in these imperfect spaces that I've found beauty I can relate with, fragments of which exist in the shadows that gather beneath electricity poles and crumbling buildings; bits and pieces that whisper out from the foliage we've allowed to creep up in the space we deem useless.
The first three years after moving here from Seattle felt like I was on vacation. I got used to living in paradise. But then, I decided to dig deeper into the areas that I felt weren't appreciated. The forgotten corners that don't attract tourists -  or really anybody at all - nagged at my mind. I began photographing these places, enjoying the angles of light and shadow that lent life and character to otherwise soulless landscapes. This theme has threaded itself through my photography for years, but I've begun to appreciate it much more since quarantine began. I'm not able to move around as much as I have in the past, and so I've been looking at things differently. 
I've realized that I feel some sort of kinship with ordinary, overlooked places as a person that doesn't always feel remarkable, but knows she is still worthy of appreciation. I am almost always in some sort of battle with myself - trying to tidy up all the mess and bad habits that come with being alive. But it's futile trying to create complete perfection. To do so, you would risk sacrificing the real, living potential that comes with a lack of uniformity. Without variety, what would we treasure? Distinctly different moments and places add depth whether we think too much about them or not. Whether they are considered beautiful by everyone, or not.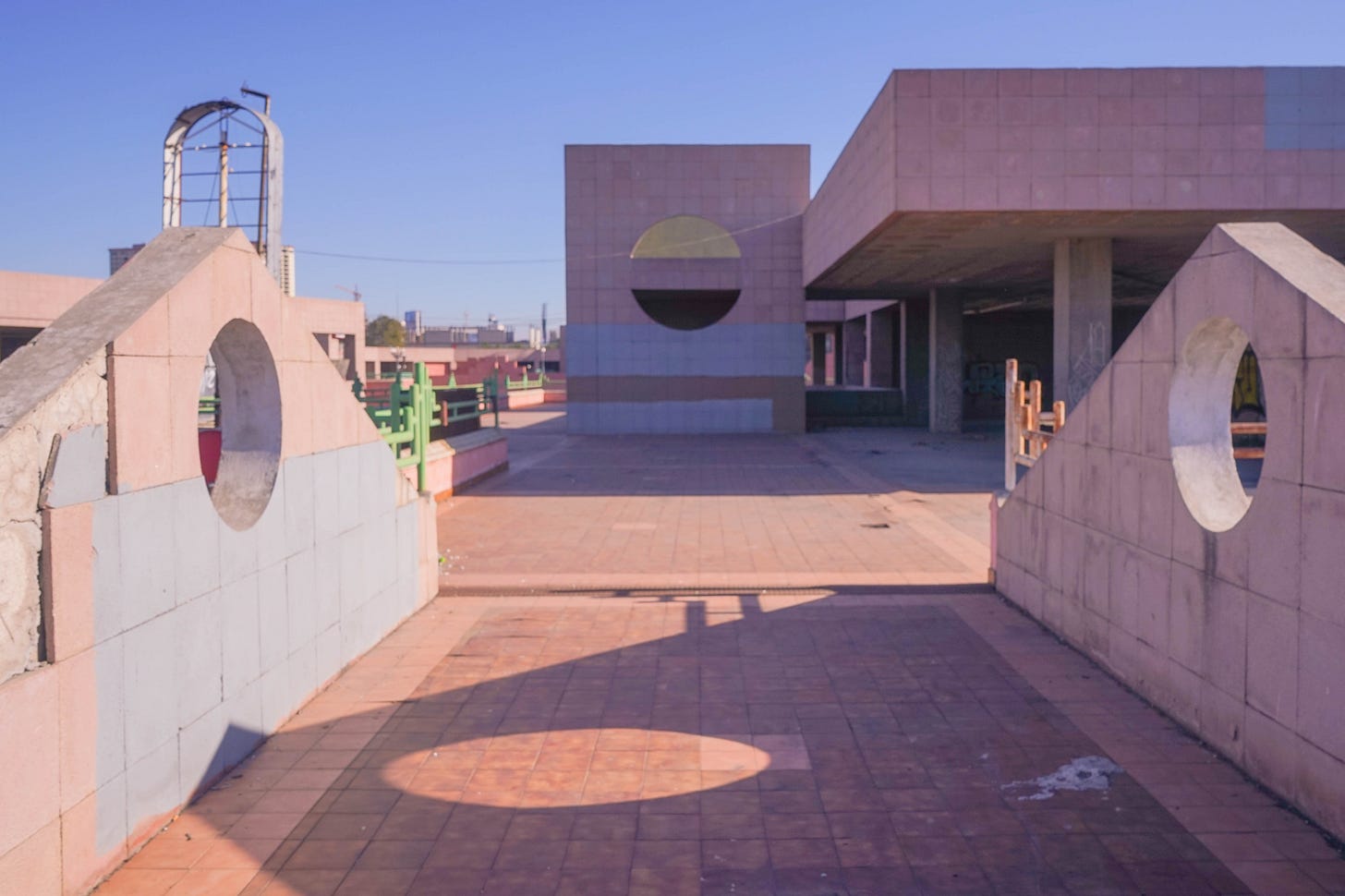 San Ysidro, CA
Are you required to feel an unconditional love for the place you're in, to brag about it whenever you go out of town? Are you obligated to overlook crumbling retail spaces and hope that they improve, or find a way to enjoy the possibilities that exist within that space?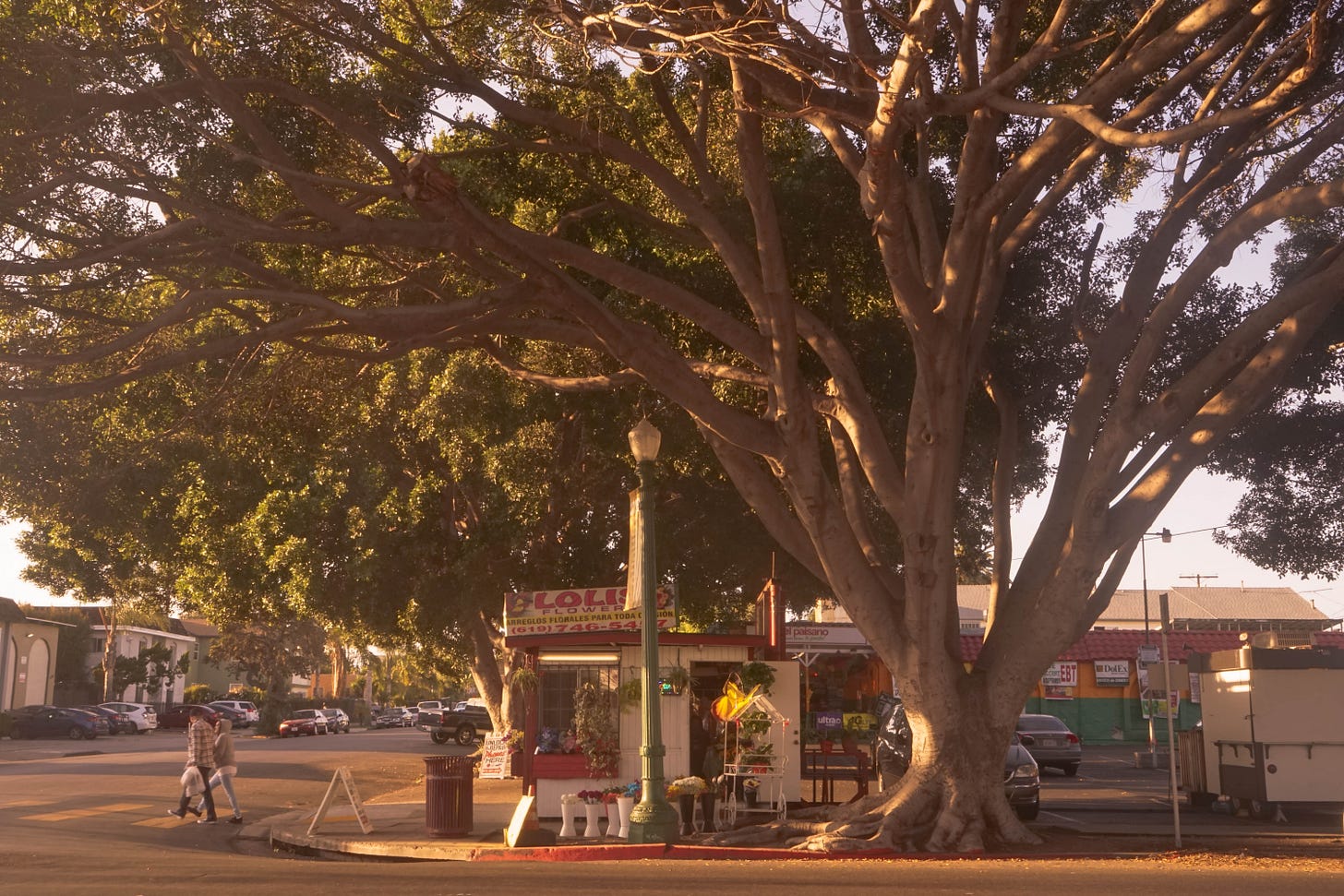 San Diego, CA
It really is beautiful. Near-perfect weather every season, sunshine, lush plants and flowers. This corner sits across the street from a dingy Family Dollar and a bus stop littered with trash. The road passing by is usually packed with people waiting in traffic to get on the freeway. I hope they take notice of this flourishing tree in a neighborhood otherwise lacking in much greenery.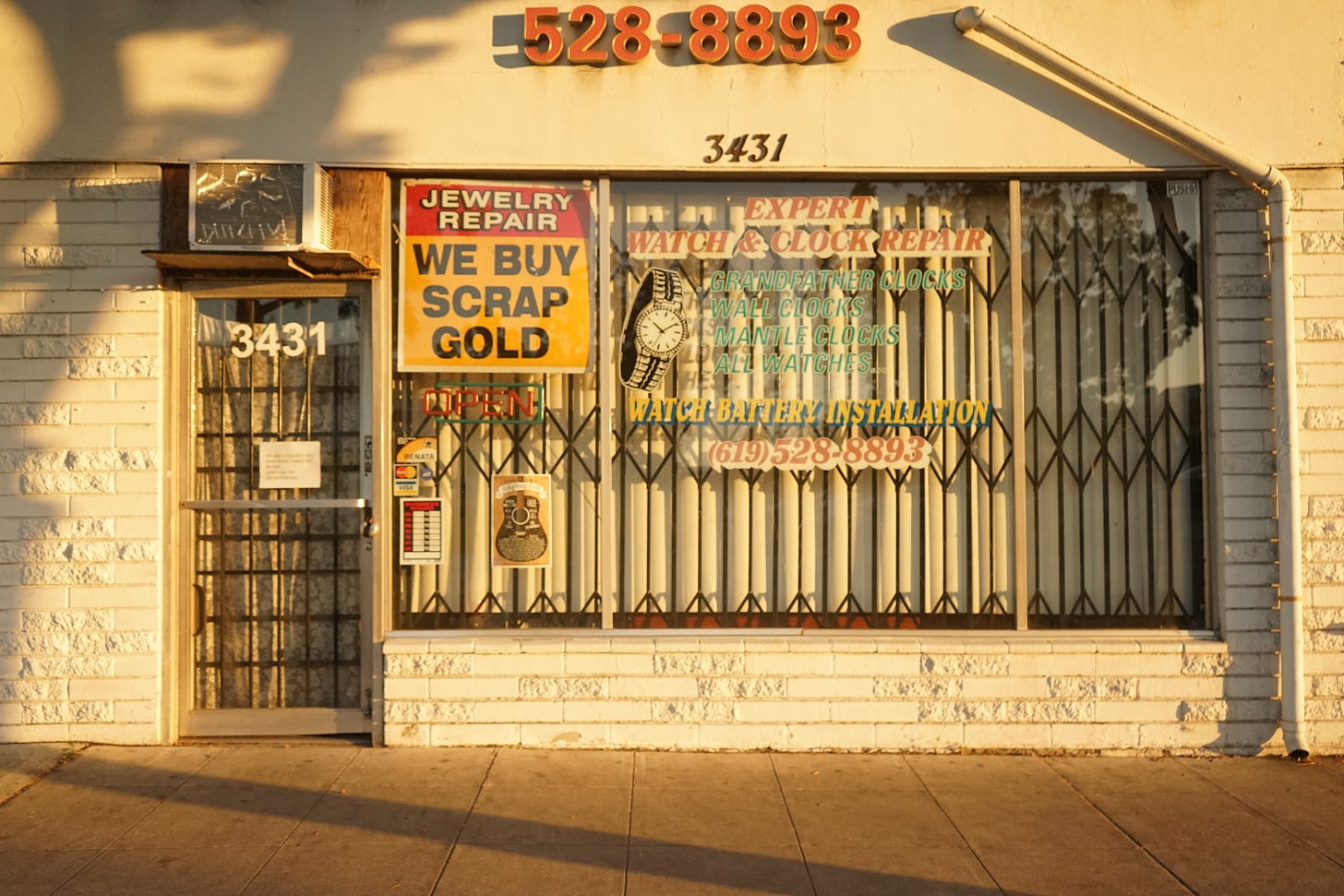 San Diego, CA
Some areas show an echo of beauty, like they know they should be aesthetically pleasing and are having a hard time hitting the mark.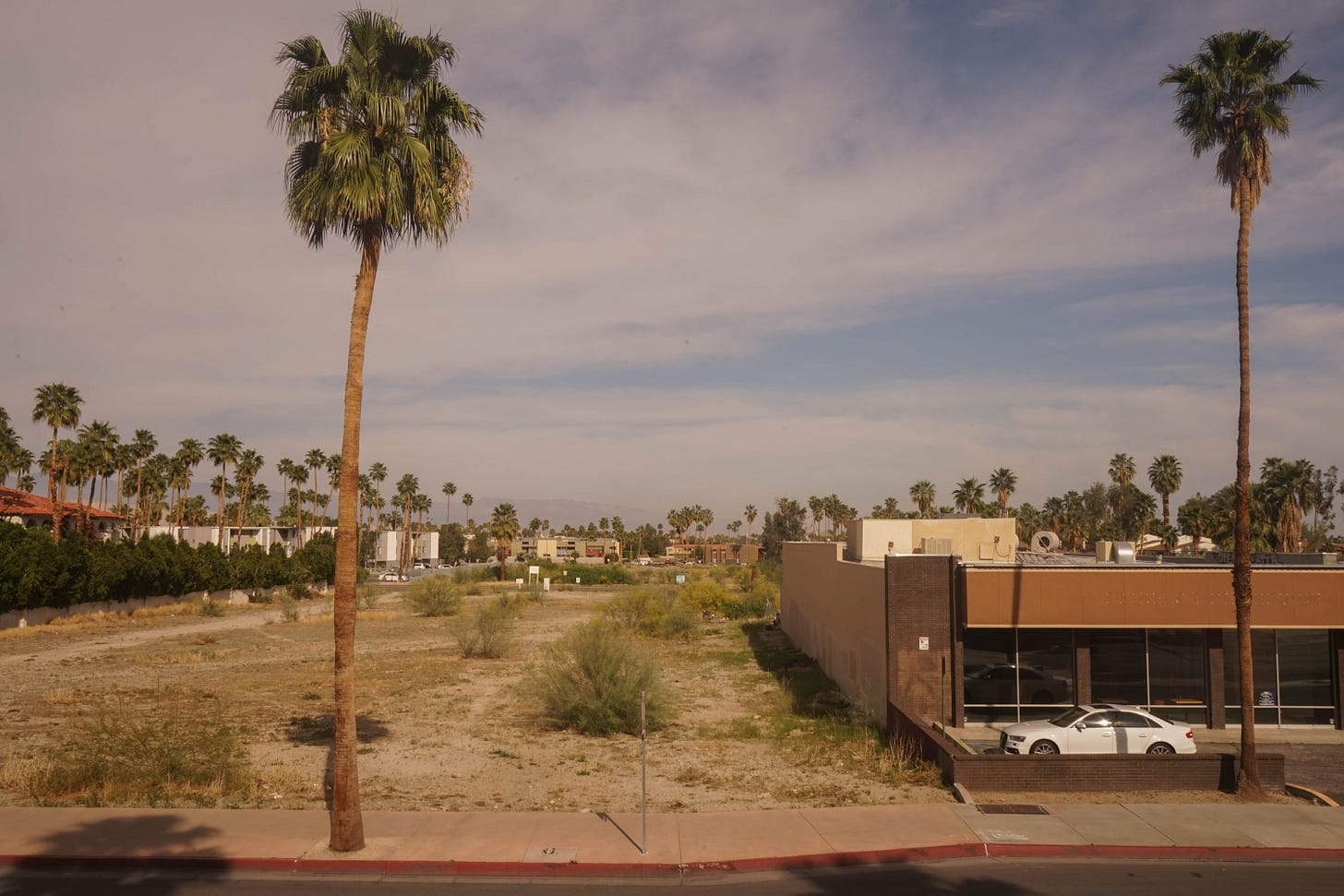 Palm Springs, CA
It is easy to disassociate from the actual meaning of a place and to have somewhat of an abstract relationship with our surroundings. Palm Springs is a vacation oasis, but bits of empty desert linger between the resorts and restaurants. The absurd heat, seemingly endless stretches of emptiness, and amount of work humans have put into making the area habitable make it feel almost foreign to a person who grew up in nearly an opposite environment.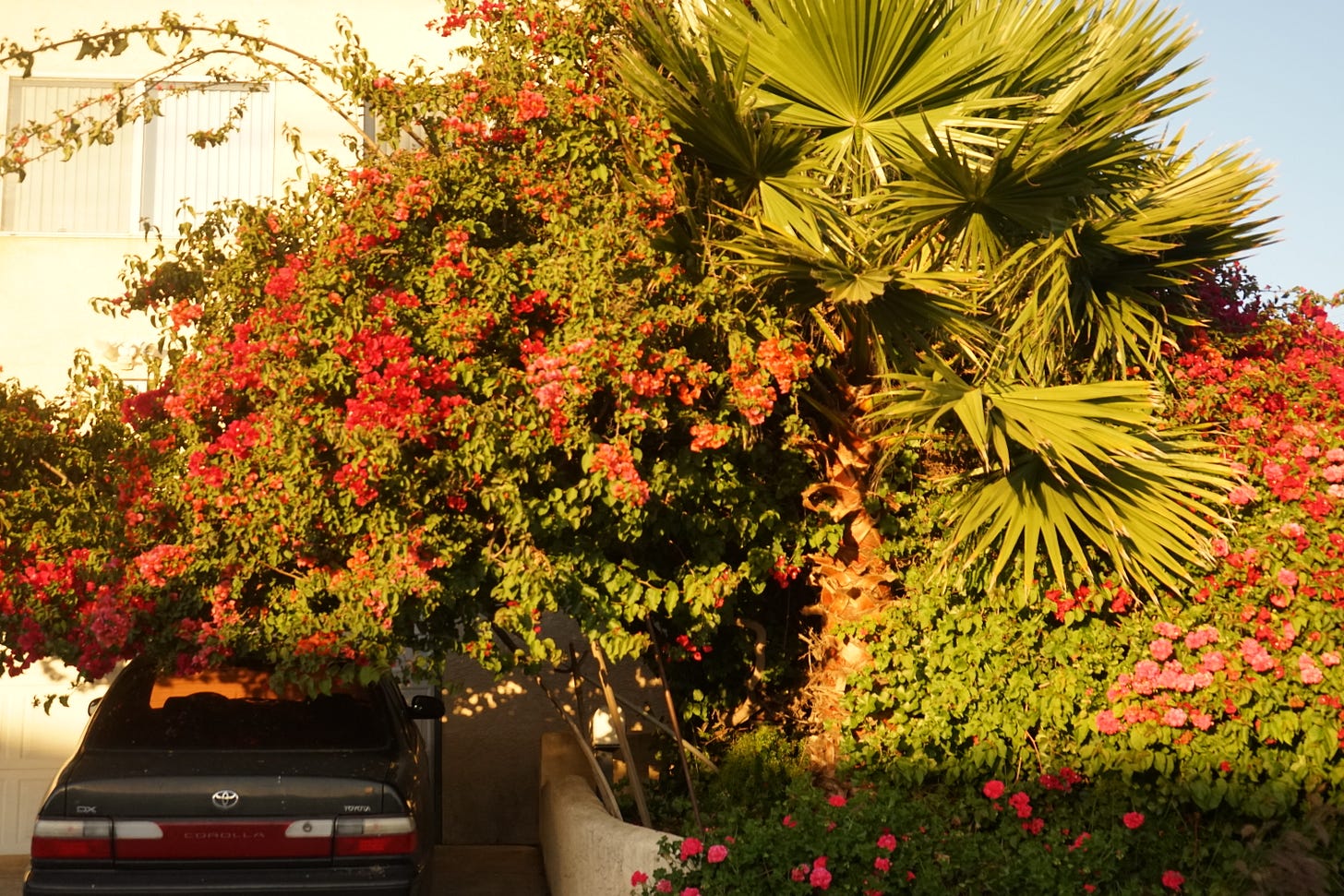 San Diego, CA
Have you ever looked at an image and felt nostalgic for a place you've never been, a sun you've never felt? Maybe you feel like you belong somewhere else and can't quite put your finger on why.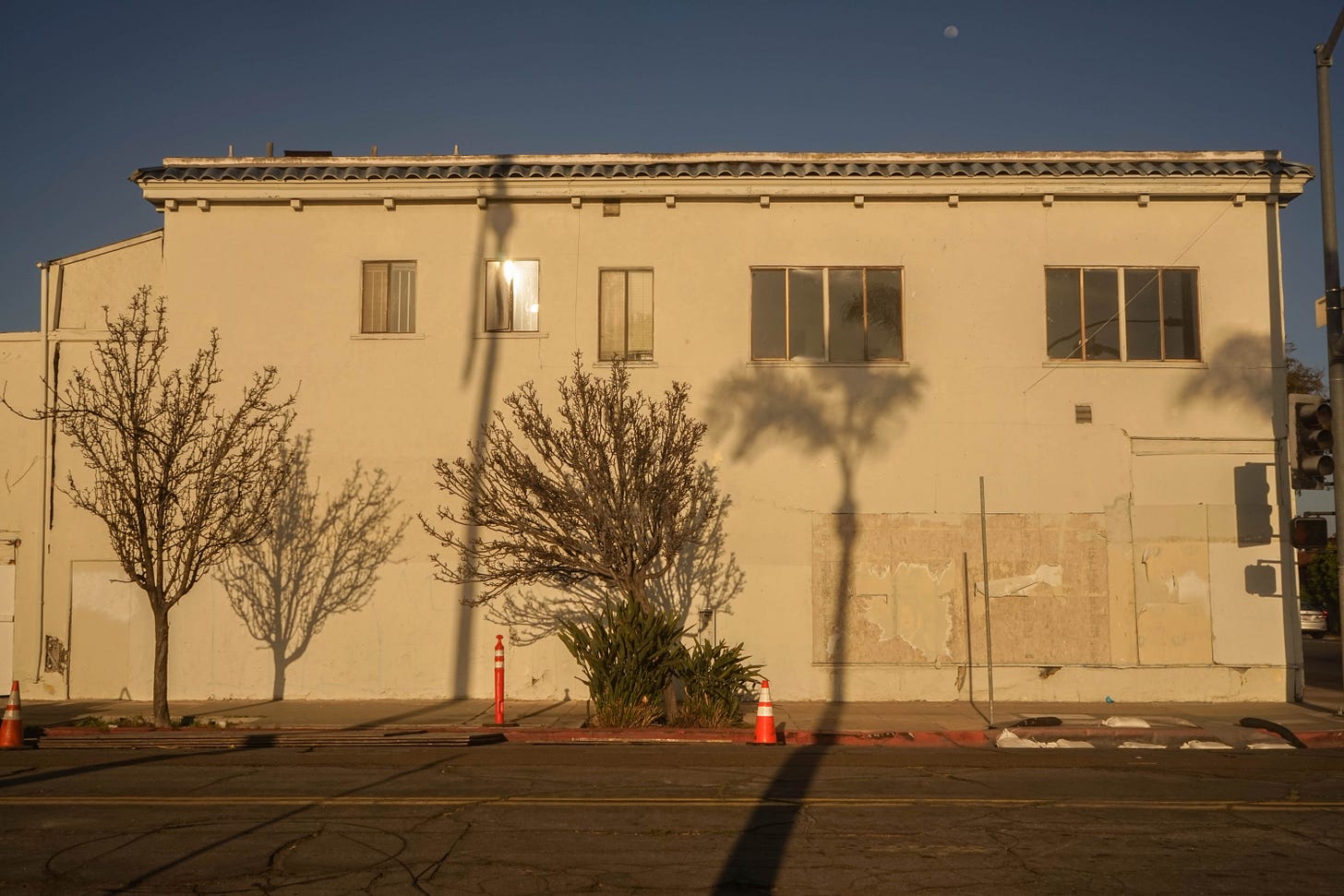 San Diego, CA
What connection do we have with the landscapes around us, if any? Do these leftover construction pieces and this boarded up building mean anything to anyone? It's possible that zero memories or feelings were ever felt towards this place, minus the simple appreciation of the moon above the shadows of trees at golden hour.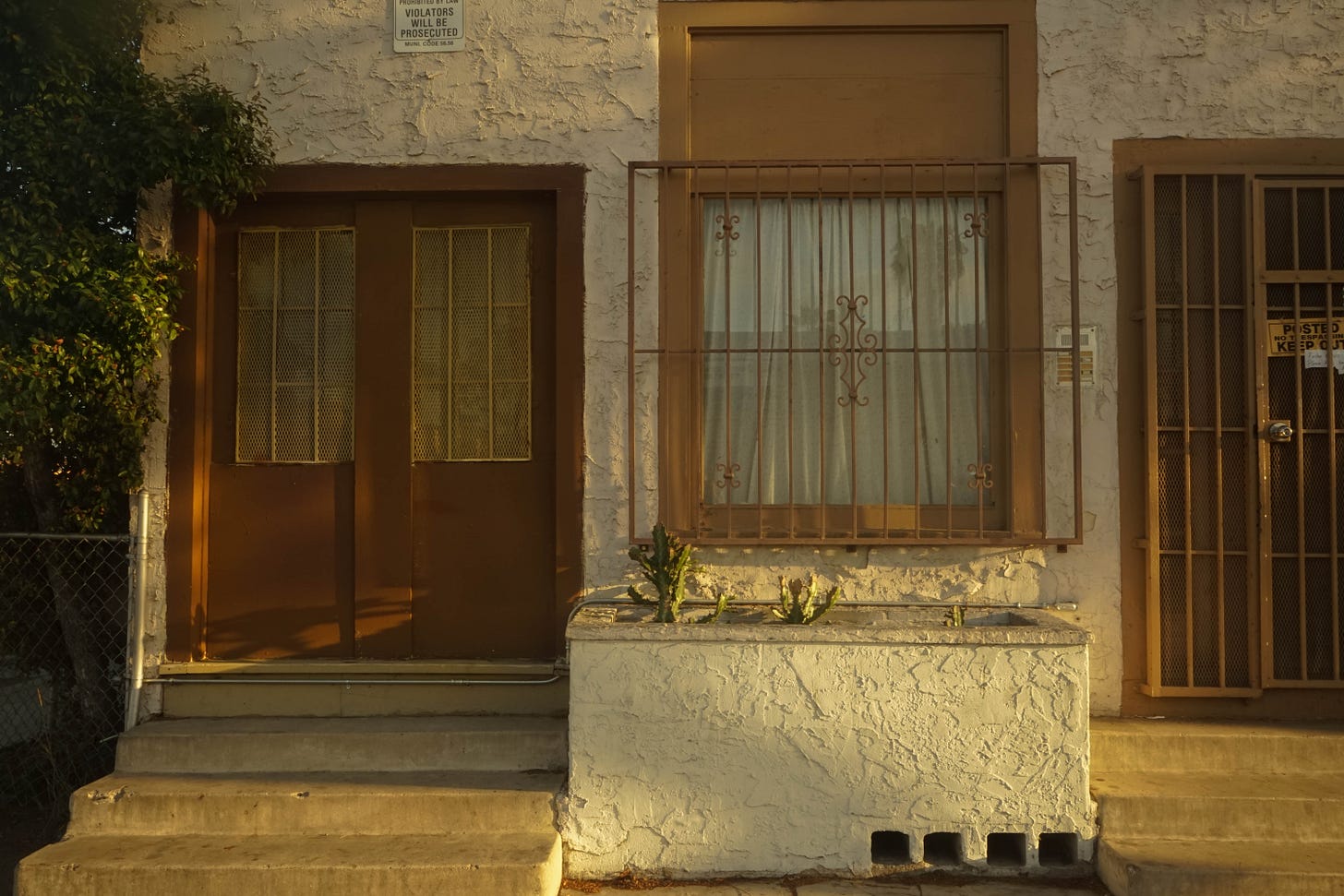 San Diego, CA
What constitutes beauty? Passing reflections of nature, patches of light, moments of serenity? These things aren't special until you allow yourself to appreciate them.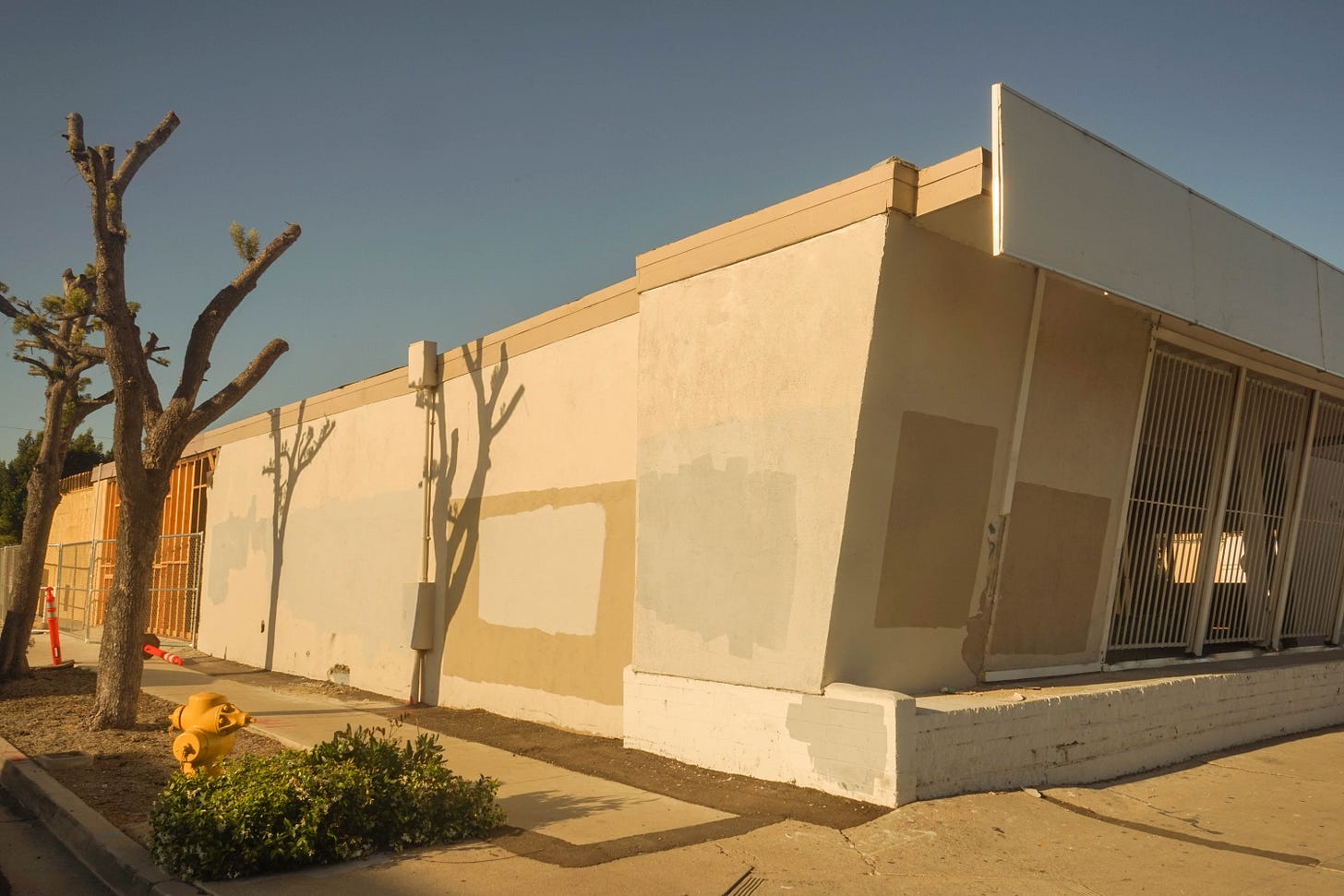 San Diego, CA
No matter where you are, your neighbourhood is full of these small moments, waiting to be appreciated. Seek them out, choose them.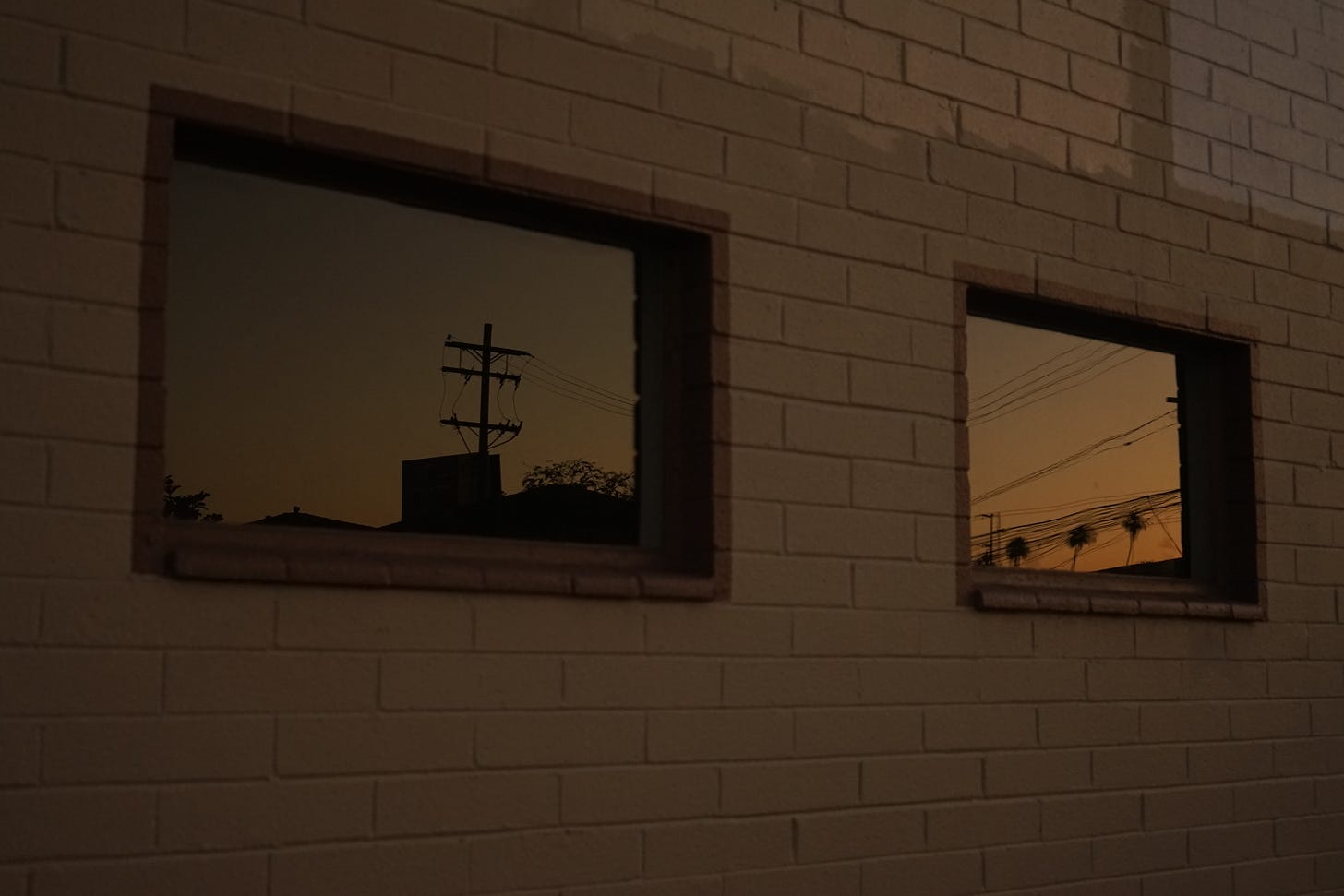 San Diego, CA
If you look hard enough, you can catch an echo of a dream. 
- Ashley Lauren Rang a visual artist currently based out of Southern CA who's lived in many places. Her work mainly stems from my constant feeling of displacement from the world and the idea of sonder. You can see more of her work at www.ashleylgnar.com.
---
Place Recommends: 
Exploring the Harlem Renaissance, 
Listening to thoughts on European anti-racism, 
And learning about the power of satire for the silenced.
---
Join us next week as we consider how one country is grappling with its innate sense of wanderlust in a time of closed borders and climate change.