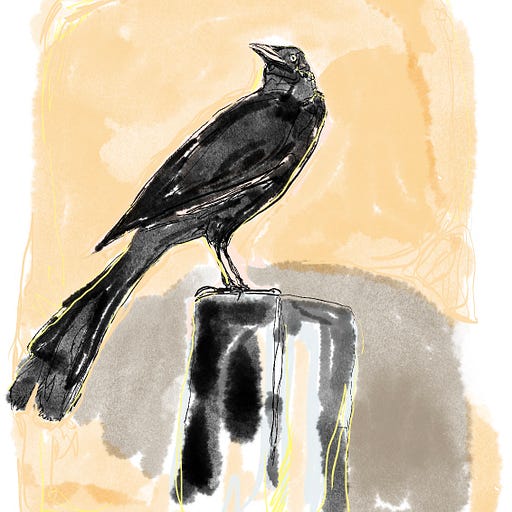 Jan 29, 2021 • 2M
Don't Go Swimming in the Gulf: A Poem
Hello and welcome to the 40th issue of Place! Today's edition is an extra special one: Our first original poem and our first piece of audio. Poet Patricia Garcia brings us to the Gulf Coast shores in search of water and finding hints of what has been lost. Her work explores what it means to be a visitor somewhere familiar to you only through your relationship with others, and how even when we lose someone we can find a place in that missing space. You can read her poem below, but to get the full experience be sure to also listen to her perform the piece in the audio above!
Also, we wanted to pop in a quick reminder of our new membership program, which seeks to support new voices! For the price of a cup of coffee per month, you will help us commission work by emerging writers and artists, and continue to receive thoughtful reflection each week in your inbox. We have so much more planned ahead, and your contributions will help further this work! Find out more here.
At Place, we believe that the experiences, sensations and conversations we have as we move about the world stay with us, stacking up as the years go by, forming who we are and the way we view the world. Do you have a letter to share? Send it to us at placeletter@protonmail.com. If you are interested in writing for Place you can find our pitch guide here. If you're the social type, follow us on Twitter (@place_letter) where you can share your favourite pieces and Instagram (@placenewsletter) for a visual feast. Yours, The Place editorial team.
---
A note from the poet, Patricia Garcia:
I believe that we can inherit places. Just like we inherit grief or trauma, love or tradition, we can know a place before we've been there. For me, this place is a beach in Galveston, Texas. There is something about the water, and the kinship in realizing that it has known and lost the same people that I have. A place to go and search out something of someone that I knew, or want to know better because every time the wind shifts, the shore changes and it looks a little different. But there's also something in how it washes something away, of cleansing. Water is something we can't get away from, in the same way poets can't stop writing of moons and mothers. 
While this poem could just be about crying at a beach, I think it could also be about the way one big grief can live in so many places - the body, the mind, somewhere on the physical plane in the landmarks of an old vacation spot. It can live in a place that is often dirty and tourist packed, or sometimes wretchedly quiet. I wonder too if it is actually many little griefs that all store up in one place, and slip out each time you see something joyful, something colored by a memory. Maybe, it is all of these things at once. Maybe we can let ourselves expand into the spaces that it leaves behind, and write new places, or new poems.
- Patricia Garcia is a poet and educator from St. Paul, Minnesota. Her work has been featured in print and online by Queen Mob's Teahouse and Dostoyevsky Wannabe. She currently resides in Houston, Texas where she organizes youth creative writing programs.
- Kylee Pedersen is a writer, editor and occasional illustrator usually based in London, UK.
---
Place Recommends:
The bliss of a daybed,
Snow gaze,
Ghost flavors.
---
Join us next week for another journey.