Creating a (Temporary) Home
Clarity on the canvas
Hello and welcome to the 24th issue of Place! When going somewhere new with no set departure, it can be easy to fall into a temporary mindset, one that both compels a deeper experience of a place while making it difficult to know when or how to put down roots. Writer and artist Tamara Rosin encountered this paradox upon moving to Tel Aviv, resulting in blank walls and sleepless nights, until one day she picked up a paintbrush and discovered clarity on the canvas. Tamara has generously written an essay on her journey as well as completed three accompanying original paintings for Place this week (and you can check out more of her art here).
At Place, we believe that the experiences, sensations and conversations we have as we move about the world stay with us, stacking up as the years go by, forming who we are and the way we view the world. Do you have a letter to share? Send it to us at placeletter@protonmail.com. If you are interested in writing for Place you can find our inaugural pitch guide here. If you're the social type, follow us on Twitter (@place_letter) where you can share your favourite pieces and Instagram (@placenewsletter) for a visual feast. Yours, The Place editorial team.
---
Creating a [Temporary] Home
I studied the narrow section of white wall between the refrigerator and the couch in my studio apartment, and drew two parallel dots with a pencil about six inches apart. The hammer felt awkward in my hand, and my wrist bent slightly under its unexpectedly heavy weight. I hammered in the nails carefully, picked up my blank canvas, and hung it up. I stepped back to assess my work. The canvas hung straight. My make-shift easel was ready.
Earlier that morning, about one week after I had moved into my new studio apartment — my fourth apartment in Tel Aviv — my friend Shelly asked how I planned to decorate the tall, white walls. I said I wasn't. Art is expensive, and that kind of investment didn't make sense for me. After all, my stay in Israel was only temporary. Why shell out shekels on artwork that I would just need to sell or give away when it was time to return home?
She gave me a cynical look. "You know how to paint, right?" Soon after that, we were standing in a small art shop nearby, clutching a basket brimming with acrylic paints, brushes of different lengths and textures, and a palette.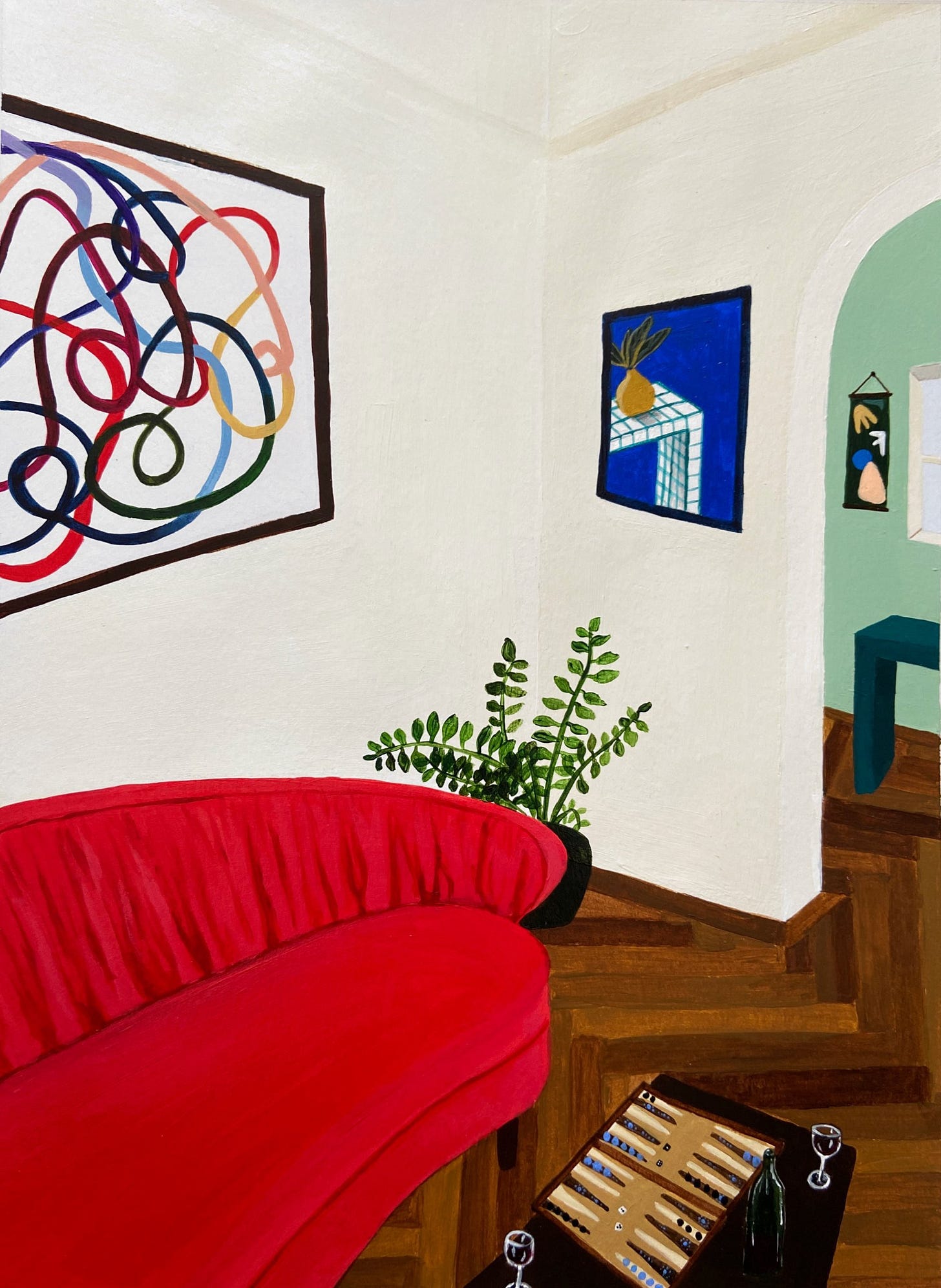 Like many people who feel the itch to leave their hometown and live somewhere abroad, I came to Israel in search of something. I was battling this stagnant, listless feeling in Chicago, where I grew up. I needed a reprieve that I felt would come from being somewhere completely different, just for a little while. I felt an urge to leave what was familiar and create my own path, meet new people, and figure out what the hell I was supposed to be doing in this world. So, despite the fear I felt moving far away from lifelong friends and family, I packed up my things and moved to Tel Aviv.  
My first apartment in the city was a dorm-style flat that I shared with three other young women who were also participating in the internship program that brought me to Israel, where I slept in a twin-sized bed beside a roommate. My bed looked similar to the one I slept in for years at overnight camp, equipped with mismatching sheets and a single pillow I bargained down to a cheaper price. But it was in a prime central location and the discomfort was quickly tempered by my excitement over all there was to discover just outside the door. Although the culture often felt more in-your-face than my Midwestern roots prepared me for, it was also more vibrant and inclusive. In lieu of fast food chains and department stores, there were small cafes, restaurants, and bars with large communal tables at every turn. Local shops sold handmade jewelry, exotic plants, second-hand clothes, and pretty much anything else I could want. Those around me were actually making a living as artists and transforming one-off ideas into startups. The sunsets over the Mediterranean were almost overkill. Extravagantly bright shades of red and pink behind the giant, golden sun demanded everyone's attention, and drew hundreds to the beach for its nightly ritual. Tel Aviv has a strong pull – I let myself fall in. 
****
 What began as a five-month adventure quickly expanded into a yearlong stay. I moved from the dorms into a nearby apartment that I shared with two French roommates who didn't bother to hide their disdain for my wine selections and taught me to eat cheese with bread, not crackers. A few months later, when our sublease was up, we spent a day lugging our furniture, suitcases full of clothes, and boxes of kitchenware to our new flat just across the street. By then, the one-year mark was approaching, and the thought of leaving Israel seemed inconceivable. I was carving out a place of my own, navigating new cultural norms, and learning a different language. I was proud of my progress and was becoming attached to a new group of close friends. In some ways, going back to the US at that time felt premature — like all of the effort that living here required would be going to waste. I kept deferring my return to Chicago.
Despite my joy and love for my new community, I could feel my anxiety increasing. When moving across the globe, my intention was never to permanently relocate. I wasn't running away from something. I cherish my family and friends, and often found it hard to cope with intense feelings of homesickness. Although Israel carved out a big place in my heart, sometimes I was overwhelmed by a longing to be surrounded by the people who have known me my whole life, or even to communicate easily in my language, without feeling like that monolingual American. My move to Israel was meant to be a short-term exercise in self-development and self-reliance. A test to see if I could make it on my own, and a means to discover my true potential outside of a sheltered environment. Still, when I imagined the rest of my life, I imagined living in Chicago, near my family and childhood friends. It's just temporary, I told myself, reassured my parents, and prefaced encounters with new friends.
But as time went on, this "temporary" mindset was beginning to interfere with the very goals that brought me to Israel. The urge I felt to predetermine exactly how long I would stay — and subsequently, how attached I would let myself get — was becoming an unmanageable source of stress. Constant inner debates led to many sleepless nights, which took a toll on my appetite and impeded my ability to concentrate at work. That word, "temporary," was always there, hovering at the back of my mind like a shadow, fixing itself onto all of my thoughts about the future, all of my plans, expectations, and relationships. In many ways, I felt even more lost than I was before I left Chicago. 
While this conflict inserted itself into decisions about my career and generated anxieties in my relationships, it most tangibly manifested itself in my apartments, wherever they were at the time. I never cared to invest in my living space — financially or emotionally — because for me, it was only temporary. Why buy high-quality (and therefore, expensive) bedding when I'm not going to bring it back to Chicago anyway? Why buy matching towels or full dish sets? These were all questions I asked myself upon each move, and I always came to the same conclusion. Buy the cheapest option. Anything more than the bare minimum was superfluous. A curated aesthetic seemed too permanent, an investment that signified a too-serious commitment to this city and directly at odds with my "temporary" mindset.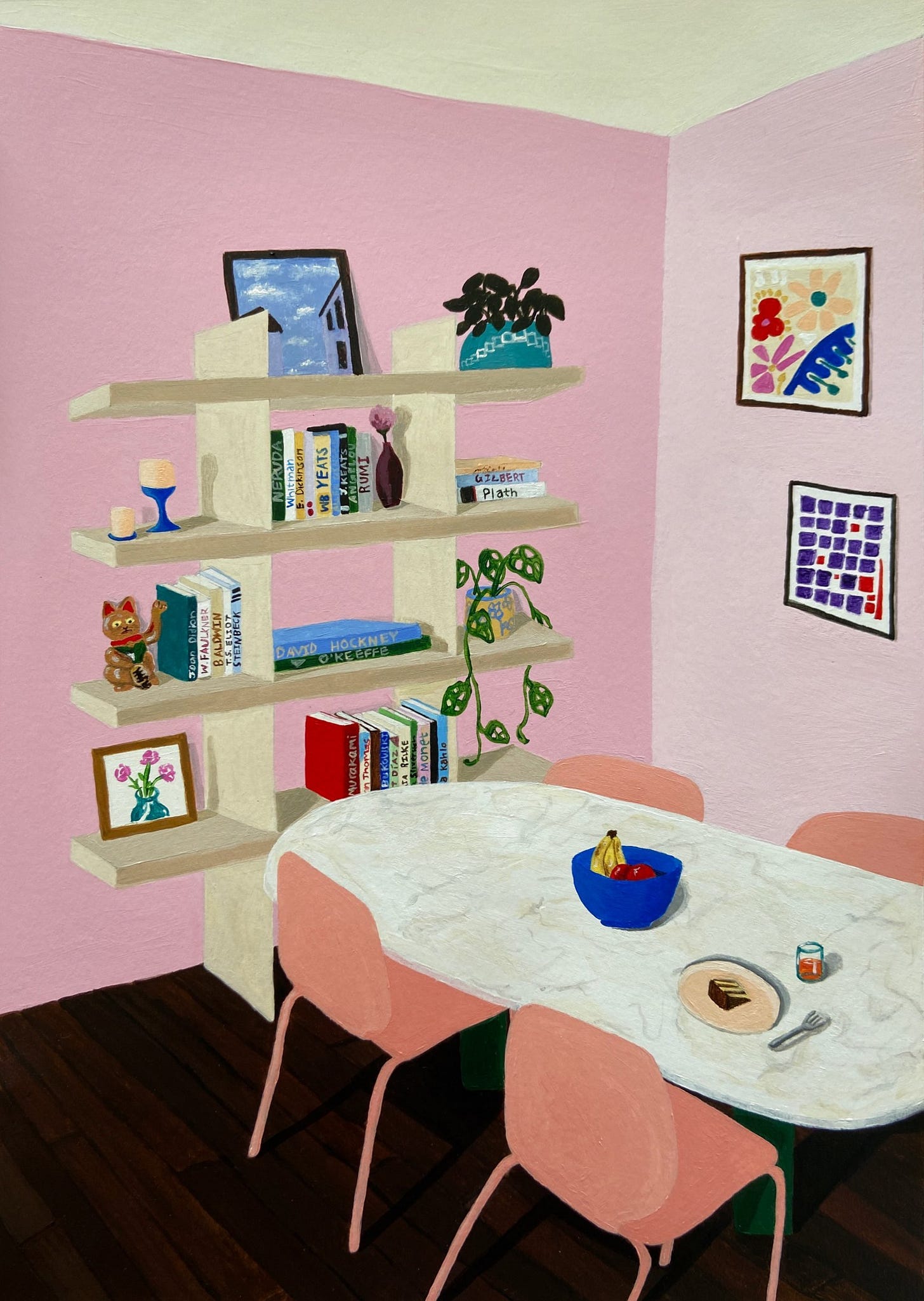 I held onto this philosophy even as I was preparing to move into my first studio apartment. After a year and a half of learning the city, I was confident enough to live alone. I moved across town to Florentine, a grungy but charming neighborhood with narrow streets and leaky air conditioners that dripped water from the buildings onto the sidewalks. There, I rented a semi-underground studio that accounted for half of an illegally split apartment, though I didn't know it at the time. I intended to adhere to the same minimalist, temporary mindset that drove my previous design decisions. But the tall, white walls of my studio were a little too empty.
Shelly's suggestion of creating my own decor seemed like a logical alternative to buying someone else's art, and felt like a better fit for my temporary mindset. I don't have a degree in art or much formal training, but I do have a few painting courses under my belt. I thought, yalla, let's give it a try.
Without considering what I was going to create, I squeezed hefty portions of each of the paints I just bought onto my pristine white palette. I chose a wide brush with smooth orange bristles, and dipped it in the container of water — a rinsed out pickle jar that still smelled like brine. Let's start with blue, I said to my empty apartment, and began layering on the paint in long, horizontal strokes. I added more colors — pink, white, yellow, orange — and decided it was a sunset. Soon, however, I had gotten carried away with the blending, and my sunset turned into a pond of murky brown water. Meanwhile, the rest of the paints on my palette dried out. Despite the disappointing results — I wouldn't hang that painting on the wall — I was pleased that I had the potential to make something beautiful.
As I continued practicing, I tried to work out what my style was. I followed dozens of artists on Instagram and was consistently amazed by the talent and creativity of people all around the world. I wanted to be like them, and often tried to emulate their style, whether that was in abstract landscapes or hyper-realistic portraits. Often, this motivated me to start paintings that were too ambitious for my skill level (I still cringe when I think of a portrait I attempted where the subject ended up looking like a character from Avatar). Even when I succeeded, I was never proud of those works. They didn't feel like mine, it was just mimicry.
****
In the meantime, I moved apartments again. About seven months after meeting my boyfriend, Dor, I moved into his apartment on the opposite side of the city, the "Old North," next to the beautiful, green Park HaYarkon. While I was excited to move in, it wasn't my ideal living space. It was an apartment built in the 1970s and the flaws had built up — a drafty bedroom window that rattled through the night, a ceiling pocked with peeling paint, a touch of mold. The phrase "too many cooks in the kitchen" took on new meaning in our small kitchen.  But soon it didn't matter how much or how little I liked the apartment — it was where I was living when the first COVID-19 lockdown started in March. I couldn't leave, even if I wanted to. It was the place that I was "stuck" in, for lack of a better word.
Still, I knew I was lucky. One day, I sat wrapped in a blanket in the living room and thought about how fortunate I was to have a safe place to live during a time of massive upheaval and uncertainty. The sudden onset of the pandemic had ushered in a sense of unpredictability like I had never experienced, and I was being forced to sideline my temporary mindset whether I liked it or not. There were no flights. Even if I had wanted to return to Chicago at the time, moving wouldn't have been possible. My only option was to stay put. My best bet was to let go — of my plans, my expectations, my worries, and all of the stress I was carrying with me. I realized that the only way I could be happy when so much was uncertain was to become fully immersed in the present, and to be present in the home where I actually was. I decided my goal for my next painting would be to capture this sentiment. 
After consulting some architectural images for help with perspective and lighting, I pulled out a large canvas and began to sketch a room. The scene I created was serene: a round white table, a small blue vase with a pink flower. A doorway, a leather chair, and deep green rug. The room represented the peace I was feeling without the future bearing down on me. Quiet, colorful, and deeply connected to the present. I spent at least twenty hours painting this canvas, and when I was finally done, I felt an immense rush of joy. I was proud of myself for actually finishing something that was both challenging and turned out good, in my opinion. I was also relieved because finally I felt confident enough to stop mimicking other painters.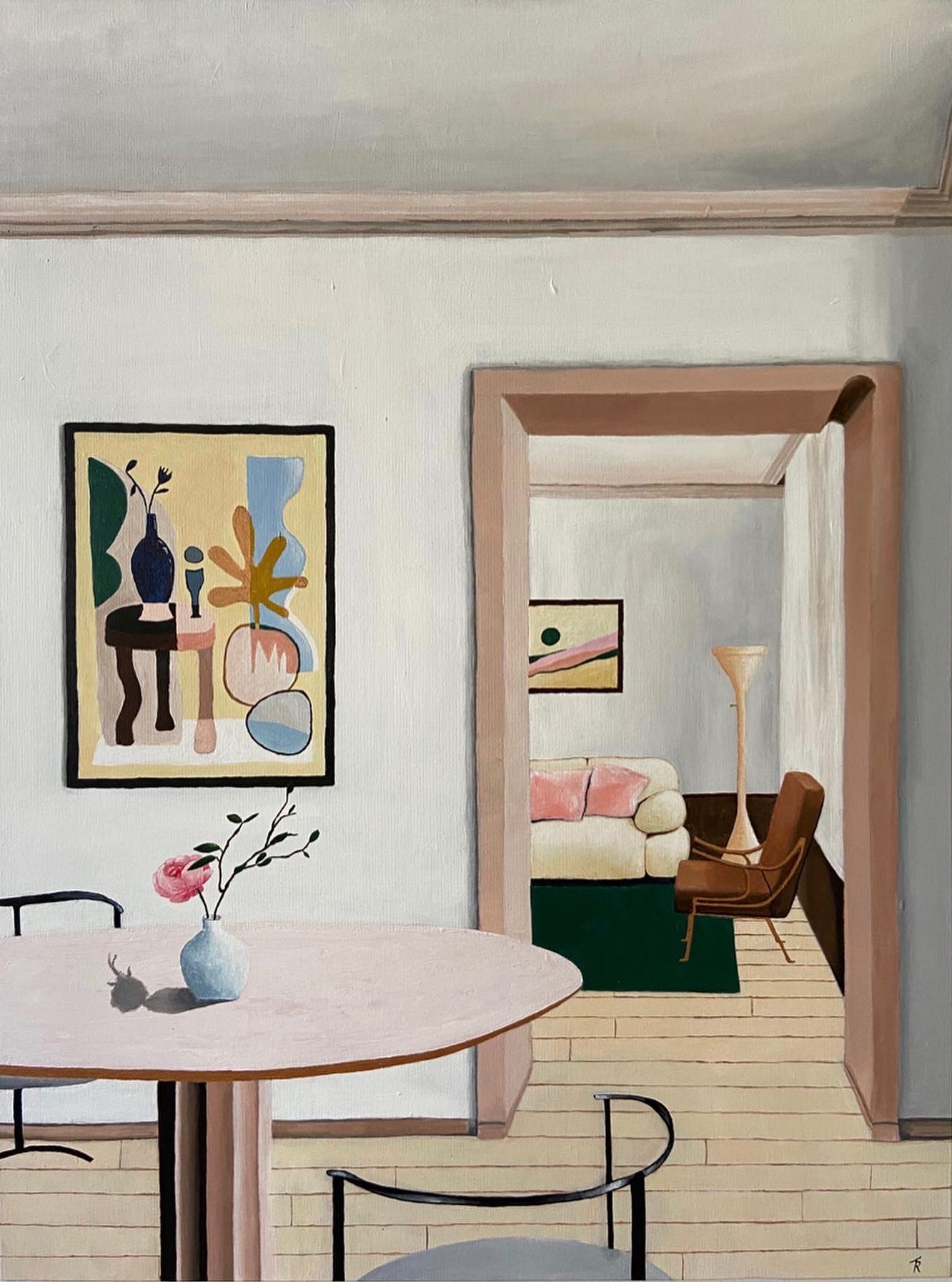 Since then, I've painted a variety of interior portraits, each of which I try to imbue with a sense of peace and comfort. I love to include unique  pieces of furniture in the rooms I create (think: a bright green couch or pink retro kitchen chairs), make paintings for the walls, and fill shelves and bookcases with interesting objects. I strive to create realistic, intriguing spaces in which a real person could actually live and call home. My paintings acknowledge the importance of aesthetics in making a house a home, and the need to invest in your living space to feel both physically comfortable and connected to yourself. 
As I painted more, it became easier for me to embrace a new mindset of just being present, and I started to understand the danger of the temporary mindset to which I had been clinging. When I resisted making my living space look and feel like my home, I felt painfully transient. I was denying myself those opportunities to grow and reach my potential because I was always focused on leaving. It had become impossible to be fully present in my own life, or to make decisions based on my current context. Instead, I was always thinking about the future. I was stuck, not where I came from or where I am now, but somewhere else, suspended in between. The lockdown forced me to see my desire to map out every step of the future as both futile and exhausting. 
Moreover, I realized that feeling at home and being in a place temporarily aren't mutually exclusive. Everything that can be bought can be sold, and apartments come and go, whether it happens on a predefined timeline or not. I certainly haven't adopted a "permanent" mindset about living here. It's just that I stopped trying to plan what each move will be, and when. 
We've now moved into an apartment in Jaffa, just south of Tel Aviv, a historic and diverse city full of artists, musicians, and friendly people. It's my sixth apartment in Israel, and I just passed the three-year mark. After these realizations and focusing on interior portraits, I was eager to take this opportunity to create our own home sanctuary. We bought way too many plants, crisp new bedding, and framed prints from a variety of artists I admire. Now, sitting beside Dor on the couch in the home we created is my favorite place to be. 
The future is still uncertain. There are still plenty of white walls and blank canvases waiting to be filled. But I've decided to stop worrying about what will happen next week or year, or when to move back to Chicago, and start seeing the space I am in now, to trust that things will happen at the right time. I look around me and see that I can be home, if only I allow myself to be.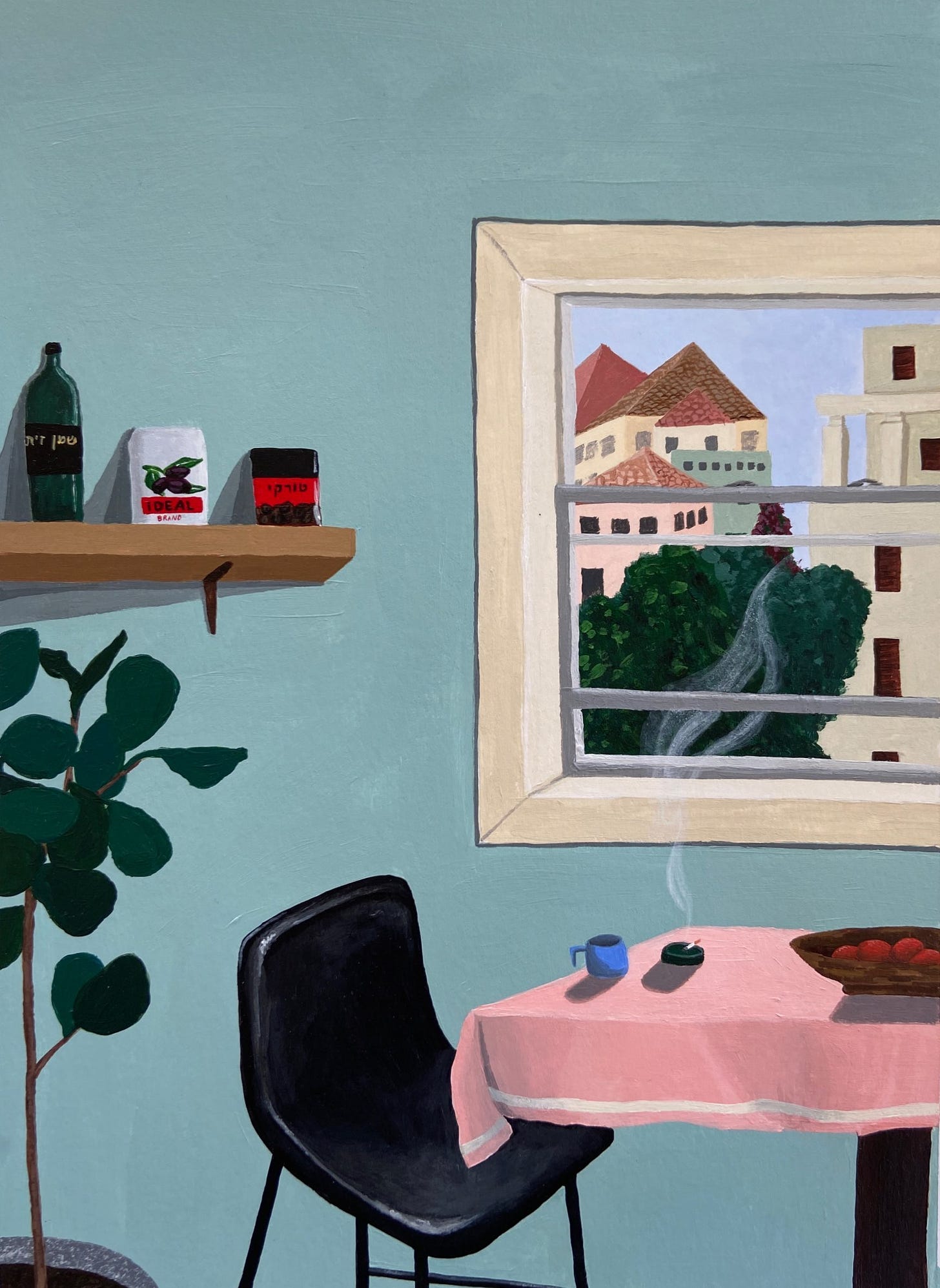 -Tamara Rosin is a writer and artist based in Jaffa
---
Place Recommends:
A convenience store at the intersection of history.
The politics of flour.
A tour of a Japanese shopping arcade.
---
Join us next week for a new journey.