Hello and welcome to the tenth issue of Place. Do you have a memory of wading into unknown waters for the first time? Do you remember when you first heard waves crash, or saw the lazy flow of a river glittering in sunlight as it slowly turned a corner? The bodies of water that we encounter throughout our lives have a way of imprinting themselves on us, etching out a place for their color, shape, and movement, and how they made us feel. Humans have always congregated near water, a pull that, as it turns out, has deep psychological underpinnings. In today's newsletter writer Josie Cox recounts her own connection with water from a seemingly magical mountain creek in her childhood, to the rivers that defined her turbulent youth, to the reservoir that now keeps her calm as she raises her young daughter in a new city.
At Place, we believe that the experiences, sensations and conversations we have as we move about the world stay with us, stacking up as the years go by, forming who we are and the way we view the world. Do you have a letter to share? Send it to us at placeletter@protonmail.com. If you are interested in writing for Place you can find our inaugural pitch guide here. If you're the social type, follow us on Twitter (@place_letter) where you can share your favorite pieces and Instagram (@placenewsletter) for a visual feast. Yours, The Place editorial team.
---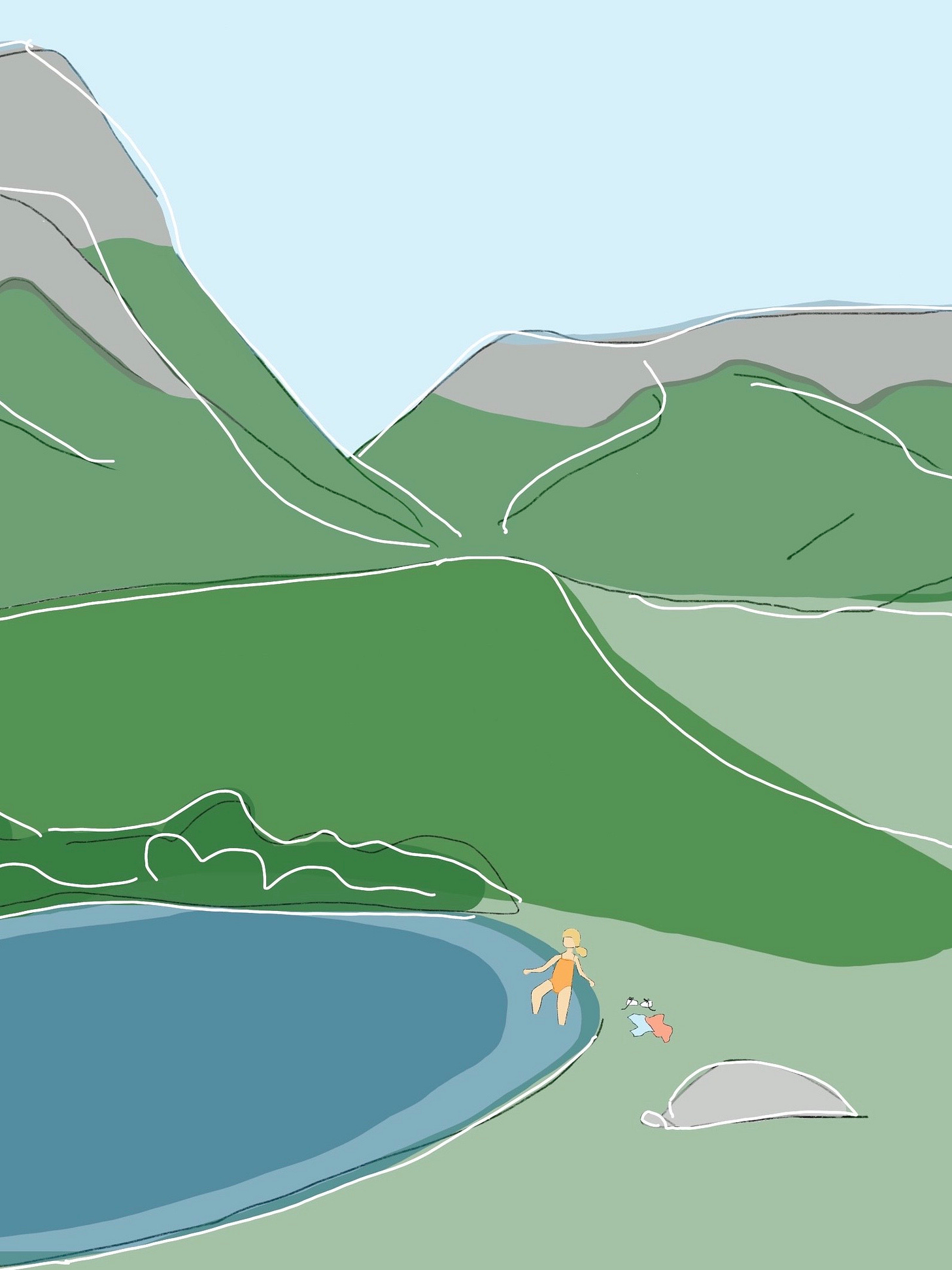 Bodies of water to call home
One of my earliest childhood memories is of playing in an almost-dry alpine river bed high in the Swiss Alps on a scorching summer afternoon sometime in the early 1990s.
A trickle of icy water cut through the slatey chunks of rock and white stone — dinosaur bones in my five-year-old mind - enticing my sister and me to dip our feet.
The distinct smell of burning wood and cooking sausages mingled with wafts of freshly cut hay and what seemed like the faint aroma of hikers' sweat and manure. Cowbells chimed relentlessly. Someone laughed. The fire crackled.
Almost three decades later, on a humid and solitary run through New York's Central Park, I stopped to catch my breath in the shady woodland area known as The Ramble. Perched on the side of the path, I saw a small stream meandering down the hillside and stripped off my shoes and socks for old times' sake.
It smelled nothing like those fresh Swiss scents, but with my toes submerged in the little crystal stream, I was transported through time and across 3,900 miles to that spot high up on the mountain: Two unlikely places connected by little more than the sensation of oxygen and hydrogen atoms combined.
But that's the beauty of water, isn't it? So essential and invisible, that we don't notice the way it has held us up until we miss it. I grew up in Switzerland, a landlocked country but one that's defined by its scattered lakes, many rivers, and traversing streams. Almost every memory I have of growing up is linked in some way to these natural sources of water. An azure lake rippling in the summer's breeze. My mother coaxing me to swim without her help. A wildly lashing stream in which I awkwardly washed my hair during a camping trip with a friend.
Water has always felt exciting and soothing all at once. There's the thrill of diving in when you can't see the bottom; nothing comparable to that breathtaking chill of first contact which slowly morphs into a sense of total wellbeing as your body gets used to the temperature and weightlessness.
I used to take water for granted but as I've grown older I've learned to seek it out.
People have always congregated around water, building their communities and cities at the banks of rivers and along the coasts. This is partly due to practical and logistical reasons, as water is necessary to our most fundamental needs - hygiene and hydration - and those which have shaped our modern world - transportation, trade, energy. But the psychological reasons for why we gather at the water's edge are perhaps just as salient, author Wallace Nichols argues in his book Blue Mind.
Simply seeing and hearing water releases a cocktail of neurochemicals which induce relaxation, increasing blood flow to the brain and heart, Nichols said, creating what he coined "blue mind" -- a meditative state that is the antidote to our anxious modern existence.
This starts from the womb, where we hear all of our first sounds through water -- even our mother's beating heart, gurgling stomach and constant breath mimic the fluidity of the ocean, Harvard Medical School senior researcher Shelley Batts found. These soft and rhythmic sounds trigger the release of chemicals in the brain that promote a sense of wellbeing.
Being in and around water allows us to disconnect from our technology-dominated lives, pulling away from the scrolling that causes fatigue and dissatisfaction, and reconnecting to all of our senses, Nichols added. It helps the body and brain to recuperate and reset. Even taking a shower in the middle of the working day, with the sound of rushing water and no phone to distract your mind, renders the benefits of water obvious.
And then there's its joy. We delight in the splash of a puddle, before we can walk; giggle at the spluttering tap filling our bath before we can walk. "Water is life's matter and matrix, mother and medium. There is no life without water," once said Hungarian biochemist Albert Szent-Györgyi.
Poets, artists, and novelists have appreciated this for centuries. In Moby Dick, Herman Melville's narrator declared: "Whenever my hypos get such an upper hand of me, that it requires a strong moral principle to prevent me from deliberately stepping into the street, and methodically knocking people's hats off—then, I account it high time to get to sea as soon as I can."
Certainly as a teenager and in my early 20s, I was never consciously drawn to the sea in the way Melville describes - or any body of water for that matter - but upon reflection, many of my most life-altering conversations and contemplations occurred under bridges, sitting on steps leading into a rapid flow, or simply wandering the banks of a lake or river.
It was during walks up and down the Rhine (a beautifully temperamental river that slices through Europe from the Swiss Alps to the North Sea) and Aare (a smaller tributary of the Rhine that's known by locals for its unique mossy colour) that I really grew up. I built and subsequently let go of romances and friendships that had run their course. I overcame bouts of depression and healed from an eating disorder. It was particularly big bodies of water, like the Rhine which is one of Europe's largest and most important rivers, that helped me gain perspective. As part of my therapy, I would write my doubts and worries on pieces of paper, throw them from the bridge and watch as they drifted away - both in the river and in my mind.
Nature's true power is perhaps never more obvious than when you're swimming against the current with gallons of water gushing past your skin every second. As I fought to reclaim my health, the water reminded me that I was both vulnerable and strong.
At university, in Bath, an English city that's known for and was named after its Roman-built baths and healing hot springs, I trained for marathons along the leafy banks of the river Avon, navigating stony footpaths and imagining that the rushing water was pulling me along effortlessly.
That pastime continued when I started working as a journalist in Berlin, on the Spree, and later in Frankfurt along the sometimes brutally urban banks of the Main. It was a river that always struck me as far more somber than the Rhine or any of its playful tributaries, but also one that provided great comfort and strength as I settled into a chapter of my life away from family and friends.
When I moved to London, I'd occasionally commute to my office along the Thames by foot, an almost comically long hour-and-a-half stroll from Kensington to London Bridge. But walking or jogging along the water sometimes just felt like the greatest indulgence available. The river -- sweeping broadly and confidently from West to East, seemingly mirroring the mood of the capital in its ebbs and flows -- was a silent companion who listened to my thoughts without judgement or retort.
In the early days of motherhood, bleary brained and teary, I spent hours walking around the Serpentine and Round Pond in Hyde Park. In earlier years, the movement of mountain streams and rivers had delighted and healed me. The forward motion of their currents had helped to propel me through life's challenges, but now I needed something else. I revelled in the predictability and sameness of London's static ponds when everything else felt like it was changing, and not always within my control; they told me to slow down and take a breath.
And now there's New York.
In mid-March of this year, as Covid-19 was in the process of rendering us all pawns in the world's greatest social experiment, I moved with my husband and toddler daughter to New York City on account of a great job offer he'd received.
Despite my desire for new cities and change, I've always found moving to be profoundly stressful and unsettling.
It's been hard - impossible, actually - to find even a semblance of stability. But once again, a steady flow of water, courtesy of the Hudson River, has grounded me. Evening walks on Riverside are a time to take stock, contextualize and rationalize; to sort the mental wheat from the chaff.
No matter my mood or global news, the Jacqueline Kennedy Onassis Reservoir in the middle of Central Park is a constant, faithful companion I've come to rely on almost daily. It reflects the full might of the Manhattan skyline in such a serene way. It mirrors some of the most iconic constructs America has to offer - buildings that are home to billionaires and masters of the capitalist world - and yet the reservoir shimmers peacefully, wholly unimpressed. If you pay attention and listen carefully you might even hear a small toad croak as a butterfly slips by.
A few days ago, a thunderstorm swept Manhattan. It was a real raging tempest, the first I'd experienced since being here, with driving rain and hailstones the size of juicy cherries. I thought the cars might be swept off the streets.
We stood by the window delighted and relieved that a brief cool spell was interrupting the early summer swelter in such a cinematic way.
From the safety of our apartment I watched as the downpour slowly subsided, the sun tentatively reappeared, and as steam started rising from the unforgiving asphalt once again.
The facial expressions of the hard-edged New Yorkers returning to the street seemed just a tiny bit softer than before. Few things will chip away at the city's hardened veneer. But water has left its grooves in mountains, Manhattan and the depths of me.
"Rain," my two-year-old declared, as if she'd invented the stuff.
- Josie Cox is a Swiss-British writer and editor based in Manhattan. She's the former business editor of The Independent and has also worked at Reuters and The Wall Street Journal. She's just been named as a Knight Bagehot Fellow by Columbia University's graduate school or journalism.
- Illustrations by Kylee Pedersen, a writer and editor usually based in London who sometimes draws.
---
Place recommends:
Exploring brutalist social housing in Marseille,
Staying in a Tsar-train-turned-hotel,
Observing climate change in Siberia,
And the vital importance of shade.
---
Join us next week as Nina wades into the peculiar spaces of dating apps.